Toshiba shows us the Yoga-like Satellite Radius, plus two new detachable notebooks
Introduces the Satellite Radius laptop and revamps its Click compatible notebooks.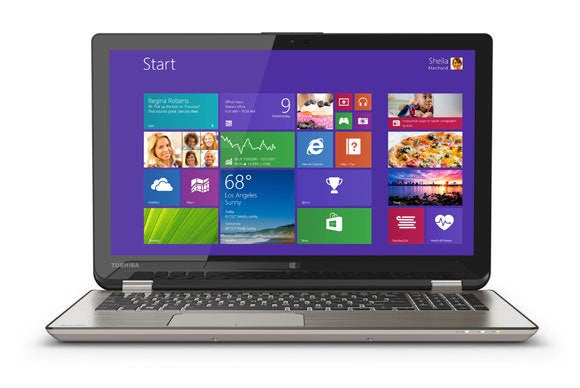 Poor Lenovo. HP co-opted its contortionist laptop design in February with the Pavilion x360, and now Toshiba is introducing a Yoga copycat. The Satellite Radius is a 15.6-inch convertible with a 360-degree hinge that offers five usage modes: Laptop, tablet, presentation, audience, and tabletop.
In a briefing last week, Toshiba's Senior Product Marketing Manager Carrie Cowan pointed out that Lenovo doesn't offer a Yoga model with a display this large. "We're targeting the mobile worker who needs to make presentations on the road," said Cowan. "This is a high-end laptop that's convertible."
The Satellite Radius will feature an aluminum enclosure and will be available with either an Intel Core i5 processor and a 750GB hard drive for $926, or a Core i7 CPU and a 1TB drive for $1049. Both models will come with 8GB of memory, LED-backlit keyboards, and 802.11ac Wi-Fi adapters with support for Bluetooth 4.0. The IPS display will offer native resolution of 1920x1080 pixels.
Holding this 4.85-pound computer in tablet mode is a tall order. I imagine most people will cradle it in the crook of one arm, if they use it tablet mode at all, because it's just too heavy to hold any other way. But the large display will be terrific in "presentation" mode (with the laptop set up like a tent) and "audience" mode (with the keyboard facing down and the display at a right angle to it. Cowan told me a "smart-lock" feature can be configured to turn the keyboard off when it's not needed.
Toshiba will bundle a copy of Nuance's Dragon Assistant with the Satellite Radius, which will have dual-array microphones embedded in its bezel. The convertible will be equipped with Harman Kardon speakers and DTS Sound audio-processing software. Cowan said the Radius will be available in July at Best Buy and directly from Toshiba.
Toshiba's Click convertible gets a revamp, too
Toshiba also showed me two new notebooks with detachable displays. "Detachables have been out of reach for the average consumer," said Cowan. So Toshiba will price the budget-oriented Satellite Click 2 at just $587 when it ships in July. That will buy you a 13.3-inch IPS display (with native resolution of 1366x768 pixels) that can detach from its keyboard dock to become a tablet.
A new docking mechanism eliminates the need to push a button or slide a catch to release the display: You simply push down on the top edge of the display and pull it away from the dock. The prototype I saw last week didn't work perfectly—one side kept getting stuck—but you can't expect prototypes to be perfect. Cowan said the combo will be 0.9 inches thick and tip the scales at 4.85 pounds , while the tablet on its own will measure 0.55 inches thick and weigh 2.81 pounds.