Microsoft announces 12-inch Surface Pro 3, 'The tablet that can replace your laptop'
The 12-inch Surface Pro 3 embraces the Surface line's Ultrabook-esque roots more than ever before.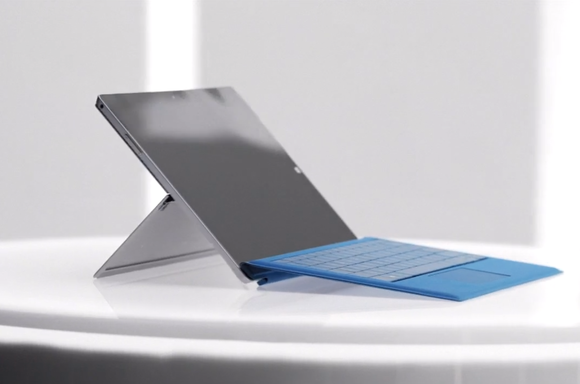 It turns out that support page name-checking the Surface Pro 3 wasn't a typo after all. On Tuesday, Microsoft announced the all-new Surface Pro 3, but this version is more than a mere spec boost over the Surface Pro 2: It's a whole new entry in the Surface lineup, and one designed "to replace your laptop."
The Surface Pro 3 blends full Core i7 power—Suface head Panos Panay calls it "the thinnest Core product ever created," designed in close conjunction with Intel—with true tablet sleekness, sheer screen size aside. The Surface Pro 3 measures in at a mere 0.35-inch thick, just a hair thicker than the iPad Air's 0.29-inch frame and far less than the MacBook Air's 0.68-inch apex.
Panay drove the point home by weighing the Surface Pro 3-again, sans cover-and a MacBook Air side-by-side on a scale.
The device still isn't fanless-the new Haswell Core processors are much more energy efficient than their predecessors, but they still toss off heat, especially in the high-end Core i7 versions. But, Panay says, "we reinvented the fan to make it 30 percent more efficient than any fan in any product today, radially emit air so you never feel it or hear it or see it." The Surface Pro 3 also includes a perimeter vent, just like the Surface Pro 2.
The screen steals the show on this device, measuring in at 12-inches with an eye-popping 2160-by-1440-pixel resolution and a 3:2 aspect ratio, and Surface head Panos Panay says the display boasts the highest contrast ratios in the industry.
"Just look at this screen—it's gorgeous," bragged Surface head Panos Panay.
Microsoft's also improved the Surface Pro 3's kickstand, with a multi-position kickstand. The tablet still has the Surface line's traditional 22-degree angle, but the hinge has been improved to add full friction, allowing you do push the Surface Pro 3 back to an almost-flat 150-degree angle that Microsoft dubbed "Canvas mode," for adjustable "lapability" and ease when using the stylus.
A focus on note-taking
The Surface Pro 3 gives its mobile roots a nod with the inclusion of a full-fledged digitizer pen with 256 points of pressure sensitivity. (The pen is made by N-trig, replacing the Wacom pen in previous Surface Pros.) In fact, the entire Surface Pro 3 design revolves around note-taking; beyond the 3:2 aspect ratio, Microsoft has baked OneNote integration deeply into the pen.
"You have to know you can write immediately," Panay said.
An Adobe executive took the stage to show off an upcoming Photoshop update being optimized for the Surface Pro 3.