Dell Latitude E7440: Hefty to carry, but a joy to use
Dell's engineers have built a dream machine for business users on the go, although we have a few quibbles about weight and battery life.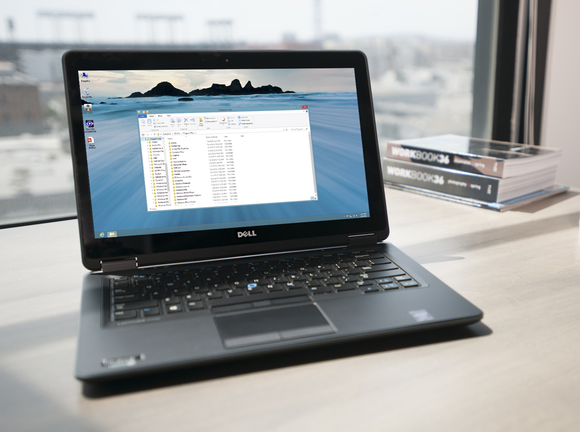 While taking notes for my review of Dell's latest business notebook, I repeatedly found myself saying "Well, on the other hand..." The Latitude E7440 is bulky for a 14-inch Ultrabook-- it's almost a pound heavier than Lenovo's X1 Carbon Touch. On the other hand, it's super tough. You could drop it on the sidewalk and it'd still deliver the sales projections for tomorrow's meeting. It's outfitted with both HDMI and DisplayPort. On the other hand, you'll need to carry a VGA adapter to connect it to the old video projector in the boardroom. Its battery croaks after just 4.5 hours. On the other hand, it's removable, so you can swap in a spare.
See what I mean?
One thing my two hands and I agree on: We love using the Latitude E7440. It's comfortable to work on in and out of my home office. The 14-inch IPS touchscreen is crisp and very bright, yet it's remarkably resistant to glare and fingerprints, and responds beautifully to my touch. My fingers fly around on its large keyboard like they were made for each other, and the trackpad works great when I need it and stays out of the way when I don't (read: no AWOL cursors). The keyboard deck has just the right slightly rubbery feel that lets my palms rest comfortably on it for long stretches.
On the other hand, its $1949 price tag sticks in my craw. And I'm sure it will stick in yours, too, whether you're a consumer, small business owner, or an IT buyer for a large enterprise. On the other hand, quality-made tools are expensive. Let's see what the Latitude E7440's price-to-performance ratio looks like.
Tough but attractive
The E7440 manages to be both pretty and rugged, its shell formed by the tough metal and carbon-composite material quickly gaining favor with higher-end PC makers. When I gripped the E7440 by the two ends and tried to twist it, it didn't give one iota. Even the screen panel, a mere quarter-inch thick, barely flexed when I whipped the lid up by just its corner and snapped it shut again.
Dell says the machine has passed no fewer than 18 MIL-STD-810G tests, including being subjected to extreme heat and cold, high humidity, vibration, drops onto a hard surface, blowing sand and dust, and liquid spills on the keyboard.
To use it is to love it
The Latitude E7440 has a gorgeous, non-glare, 14-inch IPS touchscreen with native resolution of 1920x1080 pixels and the best off-axis viewing I've seen so far. The keyboard flexes in its middle and its keys bounce a little much, but they don't clatter and they render nearly every keystroke correctly. The slightly concave keys are nicely islanded from each other, and offer just the right level of friction. Four levels of backlighting are available, which makes the computer easier to use and reduces the load on the battery when you don't need its brightest settings.