Amazon Kindle Fire HDX: Can a 'consumption' tablet deliver as a productivity machine?
From an entertainment perspective, the Kindle Fire HDX is excellent. Productivity, however, still feels like an afterthought.
Amazon says you'll also get unlimited cloud storage space for all of your music, video and book purchases, but you can store only 5GB of your own documents in the cloud, as opposed to 15GB within Google Drive.
Hurray for OfficeSuite
The Kindle Fire HDX has trouble with PowerPoint and Excel documents. If you double-tap such a document stored in the Amazon cloud, it will open as a read-only document. But if you're working with locally stored documents, OfficeSuite Professional (an app that comes bundled with the tablet), will step in and open and edit the file automatically.
In fact, OfficeSuite alleviates many of the roadblocks that Amazon puts in your way. Suddenly, you can access Google Drive, or Box, or any number of services, creating new files or editing files already stored there. You can also save them locally.
OfficeSuite may not offer 100-percent compatibility with, say, Office 2013, but it's a solid program that works with Word, PowerPoint, Excel and PDF files. Yes, you can choose to download other Android office suites that Amazon sells on its app store, but for many, the free bundled OfficeSuite Pro app will be all that's necessary.
By the way, if you do have questions about how to use your tablet, Amazon's built-in Mayday service can help in a pinch. Swipe down from the top of your screen and click the "Mayday" button; you'll quickly be connected to an Amazon service representative who can see and control your screen, but not see you.
The service rep I spoke to, Orlandus, clicked right through to the OfficeSuite app when I asked him how I could use my Kindle Fire HDX tablet to replace my Windows laptop while on the road, and gave me a brief explanation of how to move files from my PC by dragging and dropping them via a USB cable. It was probably easier and more effective than walking over to my IT help desk. So kudos go to Amazon for excellent customer support.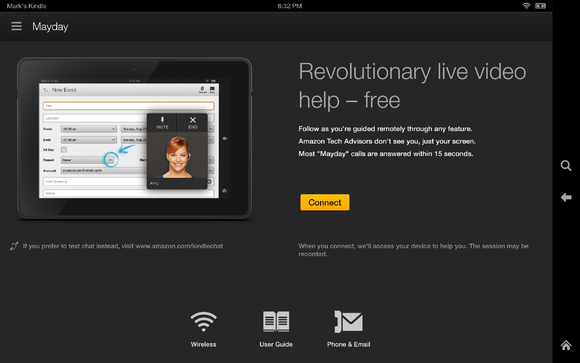 Amazon's Mayday service allows you to easily and quickly connect to a technical support person, via video, who can help solve your problems.
Pros and cons
Amazon's one triumph is definitely Mayday, a customer and tech support hotline without the hotline. And if you're using the Kindle Fire HDX as a two-handed device, I think you'll quite like the Kindle Fire HDX hardware.
But I'm not fond of the Kindle Fire's user interface. Its carousel of frequently used apps and documents implies that the rest of the UI will be equally intuitive, but it's really not. Unless you're aware that swiping in from all three sides of the screen reveals different shortcuts and settings, you'll be stumped.
Previous Page 1 2 3 4 Next Page