Amazon Kindle Fire HDX: Can a 'consumption' tablet deliver as a productivity machine?
From an entertainment perspective, the Kindle Fire HDX is excellent. Productivity, however, still feels like an afterthought.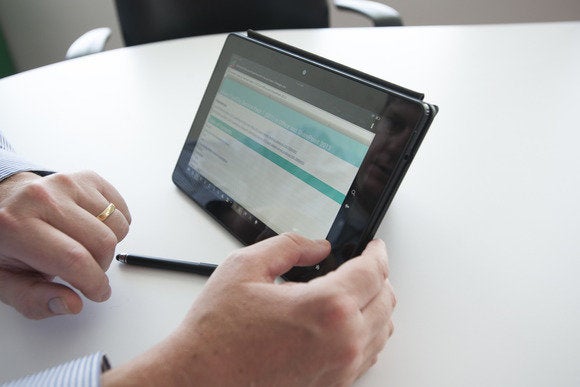 Microsoft is expected to launch a new competitor in the productivity tablet space on Tuesday, announcing what pundits are calling the "Surface Mini" at an event in New York.
Conventional wisdom says the Surface Mini will come with a digitizer pen, thus mirroring the Surface Pro's utility as a productivity device, but transporting the overall Surface promise--full-fledged Office apps on a tablet!--to a much more portable 7- or 8-inch form factor.
Indeed, consumers have generally supported the move to smaller tablets. Among Surface Mini's competitors will be the Apple iPad Mini, the Google Nexus 7, and the Amazon Kindle Fire HDX, which we compared to the Nexus 7 last year.
Traditionally, these smaller tablets have been used for "consumption" activities: playing games, browsing the Web, and watching video. But on the eve of Microsoft's launch, Amazon challenged us to use the Kindle Fire HDX in a new way--as a productivity machine. With the Surface Mini on the horizon, we agreed.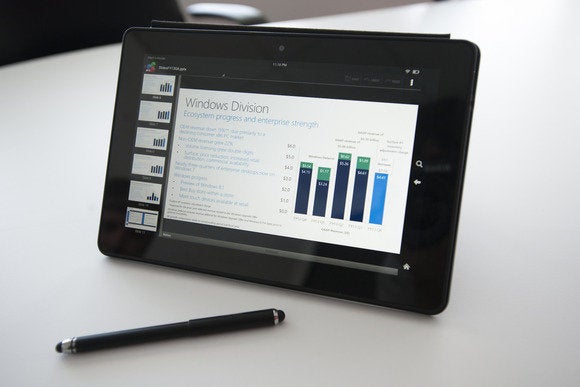 IMAGE: MICHAEL HOMNICK. Physically, the 8.9-inch Amazon Kindle Fire HDX is well-designed, but its size and weight are neither fish nor fowl.
Light and Air-y
Physically, the Kindle Fire HDX I tested is well-designed, with one exception: It's too small to qualify as a full-size tablet, yet too big for perfect portability.
With an 8.9-inch display, the 13.2-ounce Amazon tablet is only slightly smaller and lighter than the $500 Apple iPad Air, which boasts a 9.7-inch display, weighs 16 ounces, and comes with 16GB of storage. Our Amazon review unit is also notably heavier than the $400 iPad mini, which has a 7.9-inch display, weighs 11.6 ounces, and comes with 16GB of storage.
Our Kindle Fire HDX review unit, a Wi-Fi only tablet, is priced at $379 and includes 16GB of storage. Amazon says that its 2560x1600 display is 100-percent RGB color-accurate, and we have no reason to doubt that.
While I was able to hold both the iPad mini and Kindle Fire HDX with one hand, the iPad mini is better suited for one-handed operation. The Kindle Fire tablet places both the power button and volume controls on the back--positioning that can be a challenge in some scenarios, like when you're holding the Kindle in one hand and a stylus in the other.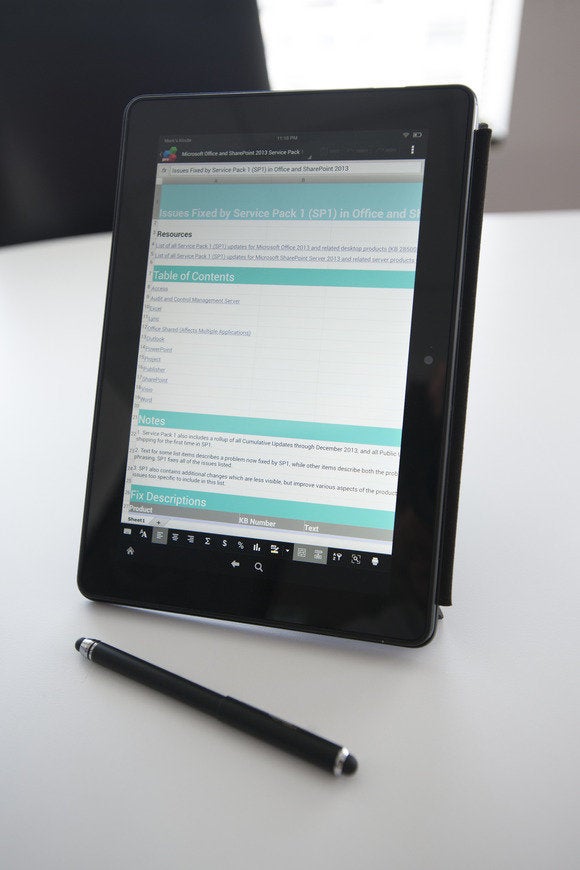 IMAGE: MICHAEL HOMNICK. The Amazon Origami cover keeps the Kindle Fire HDX steady in either landscape or portrait mode.
To better test the Kindle Fire HDX, we ordered Amazon's official accessory, the Origami Cover, as well as a stylus. On first blush, the polyurethane Origami cover seems over-engineered and a bit precious. As the name suggests, you'll need to fold it a couple of different ways to prop up the tablet in it, and it's a bit tricky to get the hang of. Once folded, however, it's surprisingly stable, in both landscape and portrait orientation.